Tobias Waschke ∼ Movember
01 November 2016

­ ∼ ­

30 November 2016
At the time that this event was added on our website, it had already ended, and this is the reason why…
On the 1st December 2016, Tobias Waschke left us speechless when he forwarded to us some emails that, at the beginning of November, he had already sent to his work colleagues to make a deal with them:
Dear all,
I get confused with Tom Selleck quite often these days … and hey, what can I say ? You're totally right, the facial hair I'm growing is not just very good looking it also makes me immensely attractive! It even makes me appear to be a very bad guy, due to the gangster impression I leave behind ?
I offer you the following deal:
You're donating a bit of money to the charity "Children Do Matter" and I will do the below at the end of the month, depending on the total amount you donate:
a) Less than £250: You better get used to the look 'cause the tache will stay on!
b) from £250 to £500: I will come into the office on 1st of Dec with the tache shaved off half way… no I won't be shaving off the edges only, cause that's not funny at all, so don't even ask !)
c) £500+: I will come into the office on 1st of Dec with a DB blue tache
Also I will match all your donations up to a total of £600, and the great thing is, that DB will match that then, as well.
So every pound you donate will be 4 pounds for "Children Do Matter"!!! In this case "every little helps" is not just a slogan.
So please do something good and donate whatever you can spare!
Every penny is very much appreciated!
Thanks a lot.
Tobias's colleagues generously donated more than £500 so for one day, the 1st December, he went to work with a blue moustache. He told us that he struggled to achieve the blue colour. First Tobias had to dyed the moustache darker as naturally blonde and then bleached it twice before dyed it blue…
It took us a couple a month to convince Tobias to give us his permission to publish the following photos of his ingenious idea to raise some funds for Children Do Matter.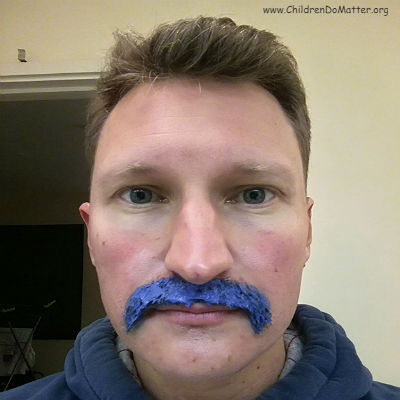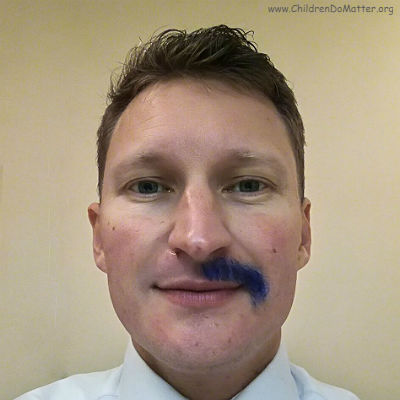 What can we say? We are speechless and very proud of Tobias's effort to help our cause. No words are enough to express our appreciation of his generosity and support. From the bottom of our heart, THANK YOU!